Many moons ago there was a time when you could crowdsource a cannabis vaporizer thru Indiegogo. This is no longer the case for some time now. Hopper Labs did some astonishing work in their campaign raising over $365K from their backers. Watching from the sidelines, the only thing that was a concern was the overly optimistic delivery date of February 2014 on the "Perks".
Fast forward to March of 2016 when the public could order a brand new Titanium Grasshopper from Vapefiend. That's what we did and our order dispatched the same day it was placed. Seems like VF was a huge backer of the project and was trickling out units via their website on a pre-announced schedule in which you needed to be on your A game to check out quick and secure your Grasshopper before the allotment for the day sold-out. This happened in minutes.
Our OG Ti Hopper arrived a few days later and was nowhere near as painful of a wait as those who backed the project that received their units in late 2015/early 2016, missing the Feb '14 release by nearly 2 years. This wasn't the first experience with convection vapes but it was certainly the first experience with a convection vaporizer in this tiny form factor. The design was stellar in terms of looks while performance was another issue in terms of reliability and robustness as time progressed.
Looking back in hindsight, we were able to keep our OG Titanium Grasshopper working as long as we used the device frequently by keeping the temperature low during use (3-3.25 clicks on the dial). Another thing we didn't do was attach the device to a bubbler, bong, rig, whatever the kids are calling it these days. From what we observed thru posts made by the many backers and early purchasers post campaign was failures resulting from high temp use compounded by long draws at high temps thru water filtration. In short, the devices or a component in them were frying under this high stress is the easiest way to put it.
One of the unique things about the Grasshopper is it featured a Lifetime Warranty. The not unique thing is the amount of early adopters who had to take Hopper Labs up on this warranty service. It doesn't take much research thru any threads discussing the Grasshopper to be concerned with reliability from those early devices. In an effort to avoid the dreaded RMA process, our Grasshopper was basically retired in May 2016 without any faults using the device during the duration we used it. We purchased some extra batteries and the only issue we had was the levels we stored these cells at during a long hiatus. You don't want to store the cells dead or full, just somewhat depleted for the best recovery upon reuse.
Since May 2016, the idea has come across my mind to sell the OG Ti Hopper on our clearance page as an open box unit more than once. There was just something about the Grasshopper that kept it on a shelf and not for sale. The fact that it was American Made, the fact that it was a super successful crowdsourcing campaign for a product we focus on here at 420EDC and that our TiChillum hashpipe is easily attached to the silicon "condom" mouthpiece are just a few reasons. When Grasshoppers work as they should, the face at the end of the chamber quickly turns to a smile after a few clicks and rips as the brain takes flight.
In late November of 2019 Hopper Labs announced a new updated design of the Grasshopper in a new product called The Hopper IO and were accepting preorders with a 10% discount for those taking them up on the offer. Pay $99 upfront for a slot and pay the rest when the units are close to finished. After a few weeks of consideration the order was placed and the wait began. All of this was pre-COVID in terms of a 4/20 expected delivery date which didn't seem overly optimistic compared to the days of the Indiegogo campaign. This was also after the company announced a fire in their facility a few weeks earlier. We just wanted to give this project another chance, a reboot if you will.
On the heels of the COVID-19 pandemic, Hopper Labs began sending out invoices for folks to pay for their new Hopper IO beginning in late February. For our order, the days drug on as we waited to get our invoice and get the IO paid for. Our order was placed towards the end of December and we weren't even sure whether we'd get the 10% preorder discount or not. Efforts to contact HL via email weren't bearing any fruit. We decided to try a Private Message thru the old F(_)ckCombustion forum, (the new FCombustion is here) after we saw HL was sending out some beta units to FC members willing to test them and help with documentation prior to mass release.
Here we should also note that as early as Feb 2020, we realized we should add the Hopper IO to the 420EDC shoppe if Hopper Labs could pull off the release of the Hopper IO, take care of the outstanding warranty issues that remain and get people the gear they've paid for. The Private Member bore some fruit, our IO was paid for in late March while we declined to jump in on the beta batch of units that went out for a few reasons (these would be shipping with the older GHB2 battery and the firmware may be revised before final release with no update capability). This also began another waiting period as 4/20 approached and COVID-19 was reeking havoc on world markets and logistics.
Early adopters seemed happy with their new Hopper IO units from our research as time progressed. The big issue for the HL Team was the batteries coming into the US from China. Since March, logistics has been hell both domestically and even more-so internationally as the world reeled on thru the viruses' ever increasing paths. If the company missed the 4/20 release date, they had an excuse that didn't need much validation.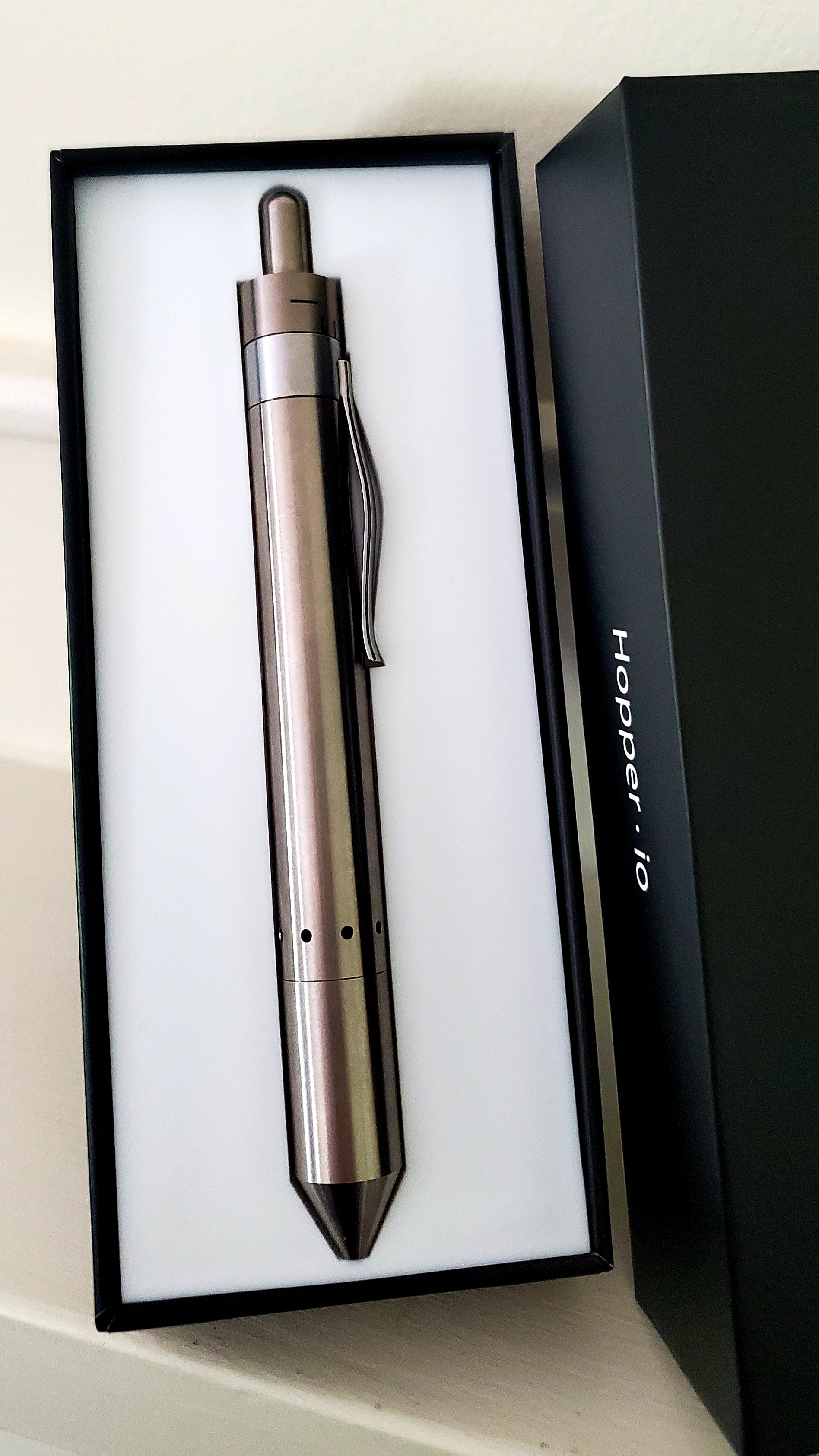 Missing their mark by just over 3 weeks, Hopper Labs announced in the old FC forum that the batteries arrived on May 12th. On May 13th, we decided to order a 2nd PFE and asked HL to combine the preorder and new order in which they said they would via customer support email. They also told us that our order should ship out the week of 5/18. Over the course of that week, I must have hit the F5 button dozens, if not hundreds of times only to see the order never move to "Shipped" from "In Progress". It was a bit of a let down but not a big deal in terms of the hardships other folks are enduring in these trying times. VAS is real but not deadly.
Since all this was happening, impatience grew into the idea of breaking out the OG Titanium Hopper. From previous contemplation of selling the unit, two of the four batteries we knew were kaput. For the two batteries that still had some life in them, we were lucky to get a full chamber session out of it unless clicking the power on/off between hits and end of hits once the heater had some warmth to it. After using session vapes for what seems like forever, going back to an on demand unit like the Grasshopper had its advantages for a quick vape session taking seconds instead of minutes.
Memorial Day 2020 came and went in a bit of reflection more solemn than years past. Tuesday's visit to the Post Office came with a surprise. There was a little brown box that almost looked like the ones we sometimes get from the Herb Ripper team. Turns out it was our Hopper IO from Hopper Labs LLC.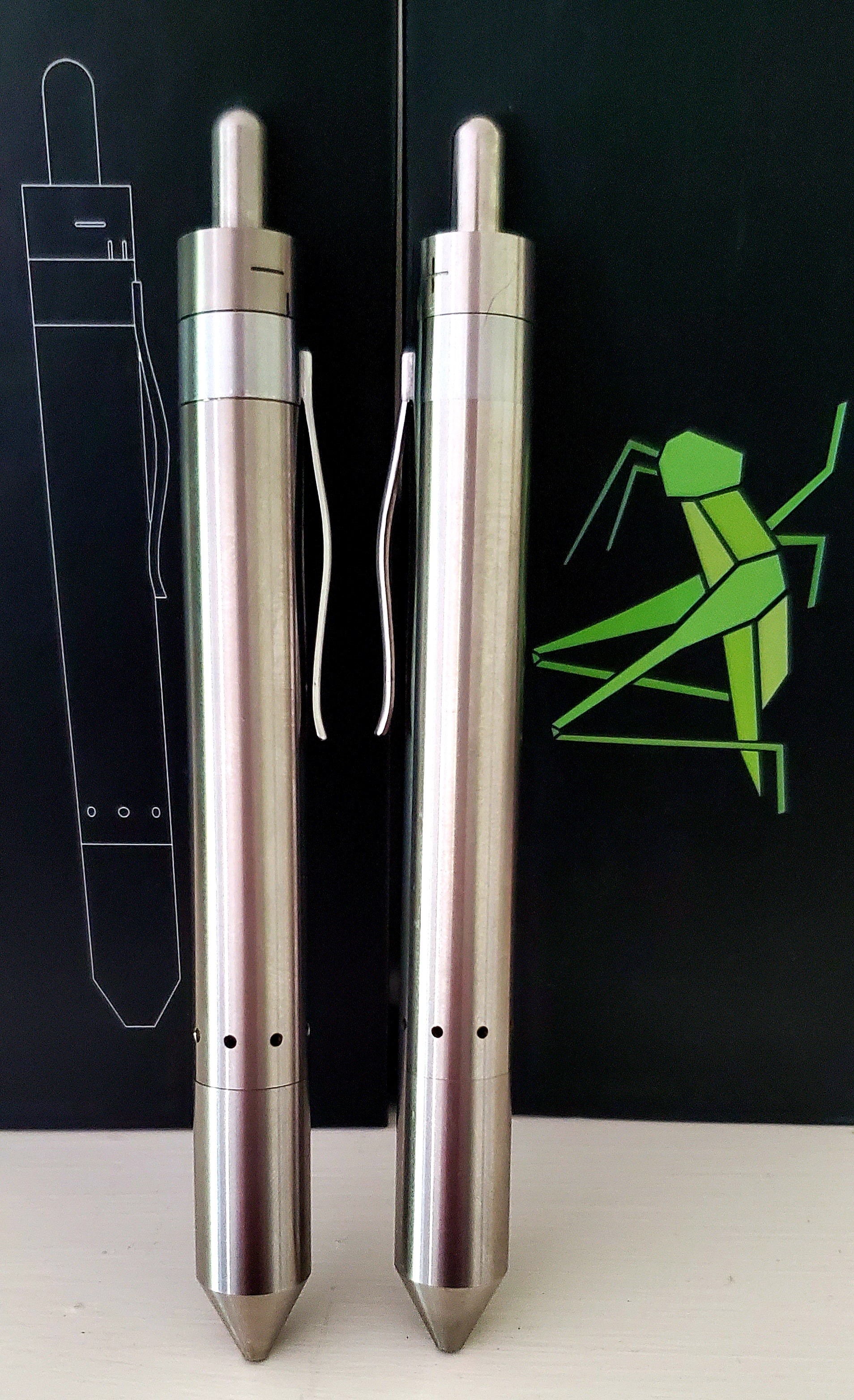 Not much has changed from the outer appearance. Looks like the LED ports are just a tad wider on the IO. Functionality wise, the performance is noticeable. Heater gets to temp instantly like the nomenclature claims in its IO "Instant On" aspect. New White LEDs shine thru in a more vivid array compared to the OG Red/Blue (and dreaded cop lights). Seems like we can run the IO at 2.5-3 for the temps we prefer to extract at instead of 3-3.25 on the OG. Flavor wise, we'll get back to this blog post and update it once we run some fresher flowers alone in the unit as we've been mixing in some older flowers with fresher flowers in an effort to get rid of less flavorful old stock of inflorescence.
In short, so far, so stellar! Thank you Hopper Labs for delivering on the Hopper IO. We hope to hear from you soon so that we can stock our shelves with this Instant On, Convection vape!
Stay safe & healthy folks, we are grateful you've read this far.